Download Voxel Farm Trial
Access our 30-day free trial here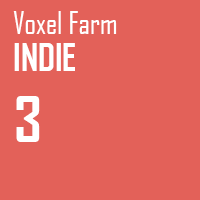 The Trial Version includes:
Voxel Farm Demos
Voxel Studio Application
Voxel Farm Binary SDK
Unity 5 Integration
Unreal Engine 4 Integration
Example Code


This is a trial for the Voxel Farm INDIE version. It is identical to the INDIE version product that can be purchased right away on this site.
In order to download access the trial, you will be asked for a method of payment. You will not be charged now. After 30 days you will be automatically charged with the full value of the product unless you choose to cancel. You will receive information on how to cancel your trial along with the download information. We will email you 5 days before the trial ends to remind you.
Download Trial Now